Kenneth Copeland Ministries websites make use of cookies (small piece of data your browser stores on your computer) to assist us in determining which region of the world you are visiting us from and which of our regional offices can serve you best. Clearing cookies is not something you normally need to do, cookies created by our websites will generally take care of themselves, but sometimes things beyond our control can happen that cause them to become corrupt.
How did I end up here? I'm not from Australia, Asia or Pacific!
If you are not normally served by our Australian office and have somehow found yourself on kcm.org.au then you probably need to follow the procedure below to clear any KCM cookies stored on your computer. On your next visit to any KCM website your nearest regional office will be reassessed and a new cookie installed.
A word of caution
Please note that the following procedures have been carefully tailored to clear only cookies related to KCM websites. Warning: while performing the following procedures you may see options to clear all cookies. Clearing all cookies may result in the loss of data associated with other sites which may include saved log-in information, or it may destroy sessions you could have open. We do not recommend choosing to clear all cookies unless you are certain you know what you are doing and are fully aware of the repercussions.
Chrome
On your computer, open Chrome.
Click the menu button to the right of the address bar and click Settings.
At the bottom, click Advanced.
Under "Privacy and security", click Content settings.
Click Cookies See all cookies and site data.
At the top right, search for "kcm"
Click Remove all shown.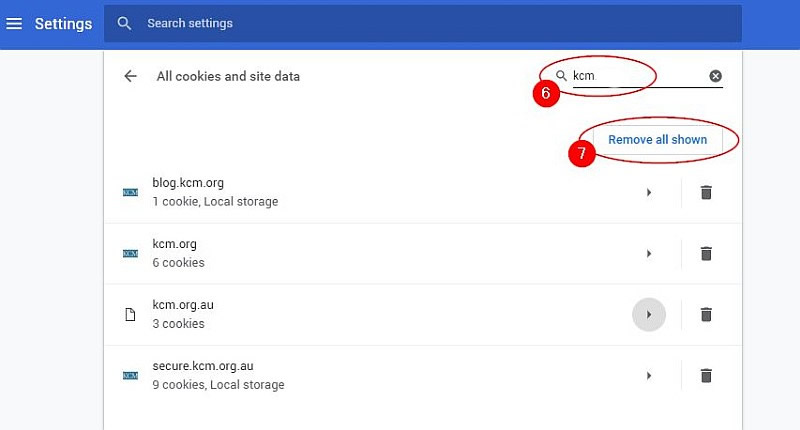 Firefox
Open Firefox
Click on the menu button to the right of the address bar
Select Options
Then click Privacy & Security
In the section Cookies and Site Data click on Manage Data…
Search for "kcm"
Click Remove All Shown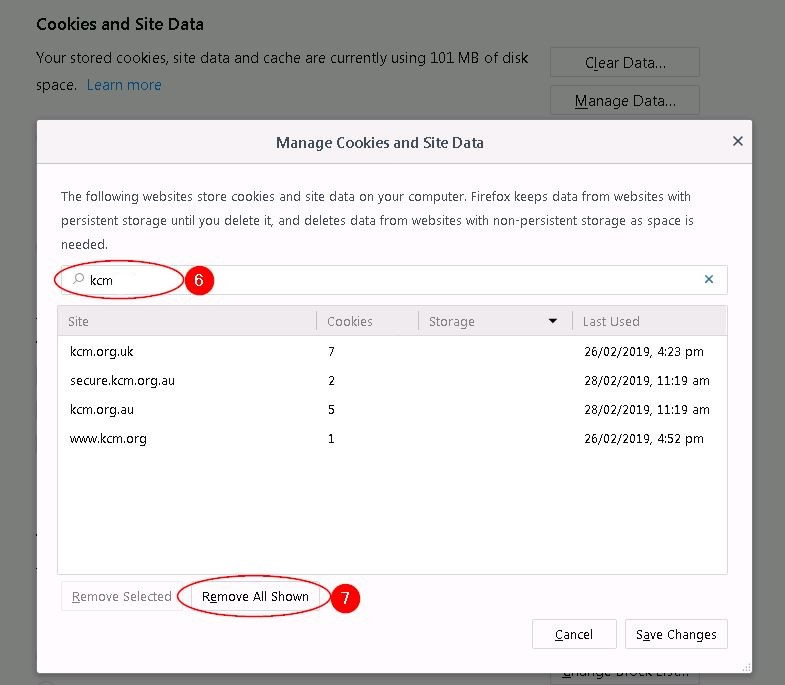 For more information about clearing cookies in Firefox please visit https://support.mozilla.org/en-US/kb/clear-cookies-and-site-data-firefox#w_clear-cookies-for-any-website
Safari
Start the Safari app
In the menu go to Safari > Preferences…
Click on the Privacy Tab and Click Manage Website Data
Search for "kcm"
Click Remove All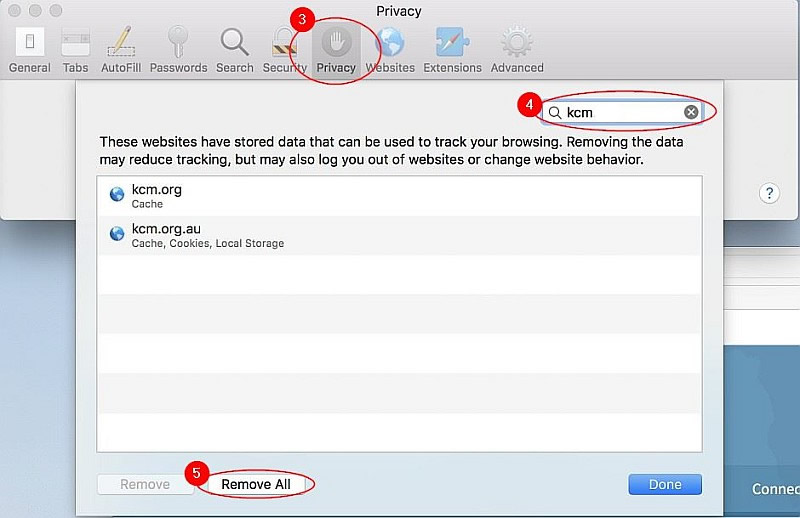 Safari On iPhone and iPad
From Settings and choose Safari
Scroll down to hit Advanced
Tap Website Data. All website cookies will be shown
Search for "kcm"
Left swipe each row displayed and click Delete