2 Key Elements That Make Faith Work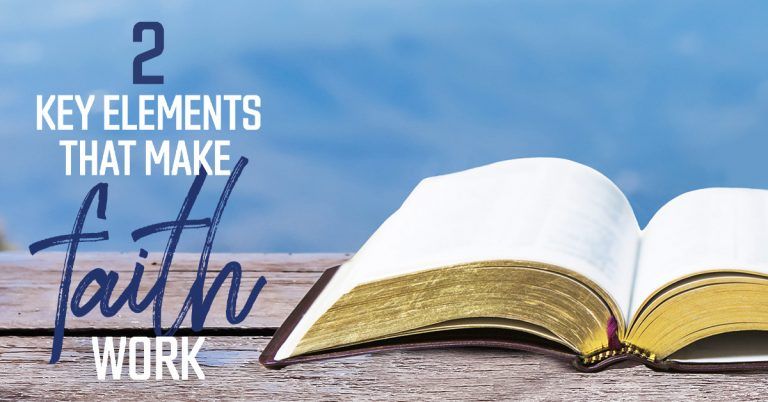 Is your faith working as well as it should be? There are two key elements that make faith work. They are like rocket fuel for your spirit. The best part – we can apply these elements and see results in our lives quickly, no matter how new we are at understanding faith.
As you read these 2 Key Elements That Make Faith Work, get ready to launch your faith to the next level!
Key Element That Makes Faith Work: Love

For [if we are] in Christ Jesus, neither circumcision nor uncircumcision counts for anything, but only faith activated and energised and expressed and working through love. – Galatians 5:6 (AMPC)

Have you ever tried to quench your thirst with an empty glass of water? It's not possible, is it? Well, the same idea applies to Love. Just like we can't expect an empty glass to quench our thirst and give our body the water it needs to operate at its highest level, so we can't expect our faith to operate at its highest level without first filling up on Love. When we choose to make time and fill up with the Word, we can't help but to become saturated with Love. Kenneth Copeland says we get to a place where, "Every word you speak drips with Love and everyone you come in contact with is affected by that Love."

Once you fill up on Love, your faith can carry you to love others unconditionally and under any circumstances. As Brother Copeland teaches, love is a way of life; we don't put it down or pick it up whenever it's convenient. Love is present with us all the time. Love is, as he says, "a life being love-conscious instead of self-conscious. If you are not being love-conscious, you will always take the selfish route. Being love-conscious does not come automatically; it requires training." And we get that training by practising our Love walk on one another. As we love and edify one another, God comes to inhabit our spirit, allowing His Love to become perfected in us (1 John 4:12; Ephesians 4:15-16; Ephesians 6:8; 1 John 4:10-12).

Key Element That Makes Faith Work: Forgiveness

"And whenever you stand praying, if you have anything against anyone, forgive him and let it drop (leave it, let it go), in order that your Father Who is in heaven may also forgive you your [own] failings and shortcomings and let them drop." – Mark 11:25, AMPC

None of us are perfect, and because of that, sometimes we can fall short of walking uprightly. And yet, when others make mistakes and hurt us, we can hold on to that hurt and choose not to forgive immediately. Unfortunately, walking in unforgiveness pulls us, as well as others, down fast. It often directs our focus to hold a grudge or an offence. Instead of holding on to our faith, and giving our problems over to God, we hold on tightly to unforgiveness, which lays our faith aside (Luke 6:37).

This is why Kenneth Copeland suggests that when you're getting ready to hold onto unforgiveness, and possibly even judge someone, speak your forgiveness out loud immediately. That forgiving love you are expressing will skyrocket your faith!

Besides feeding your faith, forgiveness is attributed to walking in miracle power. In Mark 11:23, Jesus encourages us to move mountains by speaking to them. But there's a catch. Jesus implicitly tells us that before praying in power and moving mountains, we must do one thing: forgive (Mark 11:20-25). Basically, if we want to move mountains, and operate in the miracle-working, explosive power of God, we must first have enough faith to walk in forgiveness (Ephesians 4:29-32; James 5:15-16). After all, we've been forgiven in Christ, and now we have the privilege of extending forgiveness to others, being tenderhearted and kind, drawing people to the Love of God.
As you've read these 2 Key Elements That Make Faith Work, you're now ready to skyrocket your faith. Walking in love and forgiveness will generate God's presence and THE BLESSING in your life, making you a beacon of light to others, and inspiring them to walk in the fullness of their faith as well.