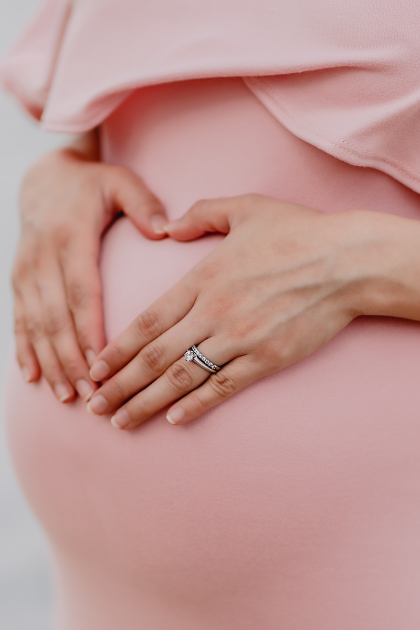 Gabriel and Evelyn Alexander didn't believe for a miracle because they wanted a testimony. Knowing that the enemy's plan is still to kill godly offspring, they wanted their son; but, to get him, they had to defy death. And, that they did! Planting their feet firmly in the power of their faith, Gabriel and Evelyn answered the call to serve, and invited the court of heaven to stand in agreement with them as they defied death to live their divine appointment.
The Call
Evelyn grew up in Detroit, in a Christian family that attended a denominational church. When she was 10, Evelyn's Pentecostal aunt took her aside and taught her about living for God. "My aunt taught me that I could believe God for anything," Evelyn explains. "She said that God wanted a relationship with me. I was filled with Holy Spirit by the time I was 10 years old. She also snuck books of Kenneth Hagin to me. My parents didn't understand any of it at the time, so I went through middled school and high school many days shut up in my room, praying in tongues and reading books by Brother Hagin."
When Evelyn was 16 the Lord called her to preach. She questioned the calling because her denomination prohibited women from preaching, so she went to her pastor for confirmation of her calling and he said "No, there is no way God told you that." Accepting that council, Evelyn went on to study pre-med and during her second year of collage she met Gabriel.
Gabriel was a God-loving man who was already in his calling of being a preacher. At 19-years-old, Gabriel was a licensed preacher. He was passionate about his faith and was guided by Brother Copelands teachings. Gabriel attended a Pentecostal church and one day, while on the phone to Evelyn, he said "I believe you're called to be a preacher." Evelyn visited his church one Sunday where a pastor said to her, "Young lady, I believe there is a calling on your life to preach. If you're going to answer that call, I'd be happy for you to preach your first sermon here."
Initially Evelyn faced opposition, but members of the church attended her first service. There was a powerful move of God, and He confirmed His Word! Gabriel and Evelyn married in 1993 and the following year the Spirit impressed them to move to Tulsa, Oklahoma.
The Anointing
The only thing Gabriel and Evelyn knew about Tulsa was the Oral Roberts University. In the summer of 1994, they made the trip to Tulsa without knowing Brother Hagin was hosting his big camp meeting. Excited, Gabriel and Evelyn attended their first meeting and experienced the power of God. Throughout the week they were impressed by the Spirit of God to make a move to Tulsa and attend Rhema church. One night at the convention the speaker told the congregation to turn around and greet each other. Gabriel met the general manager of a car dealership who offered him a job on the spot!
In September 1994, Gabriel and Evelyn moved to Tulsa and began their first year attending Rhema where Brother Copelands ministry encouraged them to live in the power of their faith. Putting their faith to work, they started a real estate investment company. During that time they went from sleeping on air mattresses to owning multiple properties. In 1999, Gabriel and Evelyn were expecting their first baby.
"It looks like your baby is dying," the doctor said to Evelyn during a routine sonogram. Unwilling to accept the prognosis Gabriel said to the doctor, "we're tithers! Because we tithe, God's Word says that we wont miscarry!" Looking to Evelyn, Gabriel stood in the power of his faith and told his wife, "Evelyn, don't worry about this. Thats not going to happen. Don't even be concerned about it." As the doctor promised to run more tests, Evelyn and Gabriel made a decision to trust God.
When they got home, Gabriel knelt before the Lord, praying in tongues while tears streamed down his face. Why are you crying? The Lord asked him twice. Gabriel unable to forget what the doctors said prayed in despair when the Lord spoke again telling him: If you believe you have received, then you act like it! In another part of the house, in her prayer room, Evelyn was praying too. "Lord, what is going on here?" she asked earnestly, "have I missed something? What do I need to do?" She sat in silence listening when the Lord said: I am not a man and cannot life. Neither am I the son a man that I need to repent. That settled it for Evelyn. She knew they were in for a fight, and it was a fight they would win!
Defying Death
Gabriel and Evelyn took their bibles and sat at the dinning room table. Together, they took their case before the highest court in heaven. "Heavenly Father, I'm asking You to join us in this meeting," Gabriel prayed. "Jesus, You sit on the right hand of Your Father in heaven, so I ask that You also sit on the right had here. We want the angels to come as well. And the evil spirit that caused this need t be here too because we need t let the kingdom of darkness know how we are standing. The kingdom of heaven needs to know what we believe."
As Gabriel took authority over the circumstance he cried out, "Father, just like You raise up Your Son, I thank You for raising up my son, too. You said the same Spirit that raised Jesus from the dead dwells in us and quickens our mortal bodies. Evelyns body has been made alive in the Spirit. I call life back into our baby's body. Thank You for healing whatever caused this."
Gabriel continued to pray: "Father, Your Word says because we tithe, we should not miscarry. Your Word says that the vine should not cast its fruit before its time. You said that nothing is impossible with You. We believe Your Word! We believe that we receive our baby alive and well. We release the angel to go and cause this to happen. We declare before the evil spirit that we will not accept this and we rebuke you! We declare these things in the mighty Name of Jesus."
They worshipped God, rejoicing in their victory. Afterward, Evelyn said to her husband, "We're going to have a baby. Let's go get some baby furniture." Everyday was a fight of faith. Gabriel Alexander II was born July 19, 2000; weighing 10pounds, 4 ounces. After running some tests, the doctor confirmed the healthy baby boy born to Evelyn and Gabriel was the same baby pronounced dead just nine months ago.