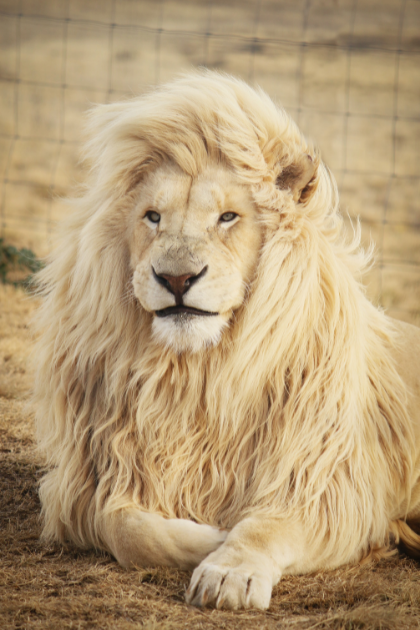 In the wild a lion is an apex predator, he is the king of beasts. Lions aren't the strongest or fastest, but its mighty raw and regal confidence makes him the boldest. A lion never retreats from a threat or an attack; he is fearless and bold! As believers we are required to be bold as a lion.
The Bible mentions the word lion 155 times in the Old Testament alone. Proverbs 30:30 (NKJV) describes the lion as "mighty among beasts, who retreats before nothing." With such a reputation for power and might, it is no wonder God used this animal to describe the demeanour He expects from His children in Proverbs 28:1: "The wicked flee when no one is looking, but the righteous are as bold as a lion" (NKJV).
One thing you need to know today is this: Jesus didn't die and defeat all of hell to have us quivering in the corner! He gave us dominion and all authority—but we have to operate in it! When you apply the following principles in your life, you will learn how to be bold as a lion.
1. Be Bold in Approaching God
"Let us therefore come boldly unto the throne of grace, that we may obtain…." – Hebrews 4:16 (KJV)
When you approach God in prayer, how do you show up? Are you confident or timid? Expecting to receive or just wishing and hoping? Asking or begging? Do you know you belong, or do you feel unworthy?
The difference in how you come to the throne of God will determine whether you take possession of what you need or walk away empty-handed. Hebrews 4:16 tells us to come boldly so that we may obtain what we need. In other words, boldness is a prerequisite to receiving—because the fuel for boldness is faith.
You have a standing invitation from your heavenly Father to come boldly and take possession of what you need. So, start praying in the Name of Jesus, according to the Word of God, and expect to receive what you ask for not just once in a while, but every time!
Jesus was bold about going to the cross. He was bold about being punished. He was bold about accepting your sin. So be bold if for no other reason than to honour Him. If you need something from God today, don't waste time standing around outside heaven's gates. Through Jesus you belong in the very throne room of God. So, come right on in. The door is always open for you.
2. Be Bold by Acting on the Word of God
"But be doers of the word, and not hearers only." –James 1:22 (NKJV)
True boldness comes from a knowing in your spirit, and boldness causes us to act on God's Word. Boldness is where the excitement is. The bolder you are, the more fun it is, and the more the power of God will manifest. Jesse Duplantis was boldly ministering in England, and he cried out, "There's somebody here who has a black scar right across your chest." (You've got to be bold to speak out a specific word of knowledge). He said, "It bothers you, and God wants to take it away. Come up here and He'll do it."
Well, no one came. But Jesse wouldn't give up, and he kept calling for this person. Finally, the man came forward. Now, boldness will cause you to do things you wouldn't normally do. That's when Jesse jerked the man's shirt open and commanded that scar to be gone and it left—disappeared right then and there.
When we hesitate and are afraid of what people might think, nothing happens. So, make up your mind now to be bold as a lion—whether you want to or not. That's how it works, but you have to take the first step. Do what the Bible says to do— whether you feel like it or not. That's called ACTING ON THE WORD! And that's called FAITH!
3. Be Bold to Resist the Devil
"Resist the devil, and he will flee from you." –James 4:7 (NIV)
When you see yourself as God sees you, as a conquering son or daughter of Almighty God, equipped with the very power of God Himself, the devil will want to steer clear of you. The devil would rather do anything than come against someone who's bold and courageous, because he's a coward himself. In fact, ever since Jesus came up out of that grave, when you speak that Name in faith Satan trembles.
Jesus has already defeated the devil, as a believer you have authority over him. You've got the Name and blood of Jesus at your disposal, but you have to decide to be bold and take authority! over your family, over sickness and disease, over the spirit of poverty, and anything else going on in your life. Be bold to walk into the darkness and bring the light. Be bold to reach into the jaws of hell and bring out your precious loved ones before they're lost forever. Be bold to face the angel of death and tell him: "No you don't. Take your hand off and bow your knee to the Name of Jesus."
Rebuke him and tell him to get out in the Name of Jesus. Put him in his place—and that place is out of your sight and out of your life. Start practicing, and you'll get bolder and bolder.
When you're bold in approaching God, bold in acting on the Word of God, and bold about resisting the devil, you will be bold! Gird yourself up, get a spiritual roar going, and be bold as a lion!
© 1997-2023 Eagle Mountain International Church Inc. Aka Kenneth Copeland Ministries. All Rights Reserved.