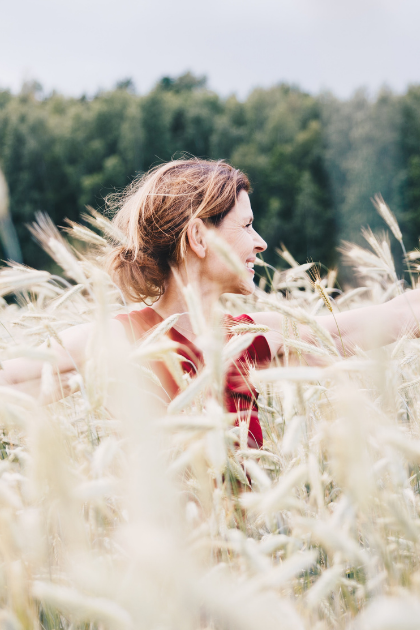 Fear has no place in the lives of believers. Sure, it tries to sneak in at every turn—your health, your family, your safety and possessions, but it doesn't belong. Satan knows it, but he'll always try to get you to take the bait. He'll use things like bad reports, discouraging thoughts, a negative word from a co-worker or family member, and unpleasant circumstances to get you out of faith and in fear. The good news is, you can defeat fear and experience the peace of God. Fear doesn't have to be part of your life anymore, but it's going to take an active fight to keep it from taking hold of your thoughts. Are you ready to take a stand against fear? Start meditating upon and speaking these five scriptures to defeat fear for good:
Be Strong & Courageous
"Be strong and courageous! Do not be afraid and do not panic before them. For the Lord your God will personally go ahead of you. He will neither fail you nor abandon you." – Deuteronomy 31:6
Living a life of faith takes courage. Most people don't realise it, but it does! It takes courage to stand up in the face of sickness and declare you're healed by the stripes of Jesus. It takes courage to believe for prosperity and put your last dime in the offering plate when poverty is staring you in the face. There are going to be some days when you'd rather pull the covers over your head and hide than take another faith stand against the devil. But you can't. Because the battle of faith isn't fought once and then forgotten. If you want to keep living in victory, you have to fight the good fight of faith to the finish, you'll have to continually draw courage from the Word of God.
I Am Your God!
"Don't be afraid, for I am with you. Don't be discouraged, for I am your God. I will strengthen you and help you. I will hold you up with my victorious right hand." – Isaiah 41:10
Repeat this confession:
I do not have a spirit of fear, but of power and love and a sound mind. No weapon formed against me can stand and every tongue rising against me in judgment is condemned. When I am afraid, I trust in God and praise Him for what He has promised. I trust in Him so why should I be afraid? He has given me peace, so my heart is not troubled nor am I afraid. He is on my side, so I do not fear. I have not received a spirit of slavery to fear, but I have received the spirit of adoption whereby I cry 'Abba, Father.' I belong to the Lord now and am no longer a slave to dread nor do I fear death. He has released me from him who had the power of death, the devil. My heart is not troubled because I trust in the Lord every day!
Only Believe!
"Do not be afraid; only believe." – Mark 5:36, NKJV
Fear isn't just a reaction to external circumstances. It's a spiritual force. It begins inside of you. And it is totally destructive. Fear is Satan's primary weapon. He moves in response to fear, the way God moves in response to faith. He challenges the promises of God with it.
What enabled Peter to walk on the water? His faith in the Word of Jesus. What caused Peter to sink? He saw the wind boisterous and he was afraid. It wasn't the wind that defeated him, it was his fear of it! He looked at his circumstances, gave in to the fear, and the result was defeat. If Peter had kept his focus on Jesus, his faith would never have wavered. All the blustering and blowing in the world couldn't have drawn him off-course.
Spirit of Power
"For God has not given us a spirit of fear, but of power and of love and of a sound mind." – 2 Timothy 1:7, NKJV
The Word of God is the sword of the Spirit. Hold up your shield of faith and quench all of his fiery darts. Speak words of faith and fear will depart. Everything you need is already in you. Jesus put it there. Everything you'll ever need to accomplish what God has called you to do has been placed inside you by God Almighty. Faith is in there. Power is in there. Love is in there. Believe that. Speak it out. Say it to yourself now, right out loud:
"In the Name of Jesus, I stir up the gift that's within me by faith. I'm stirring up my faith and I'm not going to wait until I feel stirred up. I'm stepping out by faith and expecting my feelings to follow! The love of God will stir up in me for His power to run the devil out of my affairs. I'm stirring myself up in the Spirit of the living God! I am stirred up!"
Watch Kenneth Copeland, with Mark and Trina Hankin teach share about how the spirit of faith feeds on God's WORD.
The First and the Last
"He laid His right hand on me, saying to me, 'Do not be afraid; I am the First and the Last.'" – Revelation 1:17, NKJV
As a lover and seeker of Almighty God, you can learn to delight in the Lord like David and bless Him as He has blessed you. In doing so, you'll put yourself in position to hear from Him more and receive from Him more. When you delight yourself in the Lord, not only will you bless Him and feel closer to Him, but His Word says that then He will give you the desires of your heart. Delighting yourself in the Alpha, Omega, First and Last, Beginning and End is not a one-time experience—it is a lifestyle! One you will never regret.
During this season of uncertainty, remember that God did not give you a spirit of fear but of VICTORY! If you need someone to agree with you in prayer as you stand in faith against fear, SUBMIT YOUR PRAYER REQUEST HERE or call our office for one of our prayer ministers to stand in agreement with you +61 7 3343 7777. We're here for you!
Copyright © 1997-2021 Eagle Mountain International Church Inc. aka Kenneth Copeland Ministries – All rights reserved.