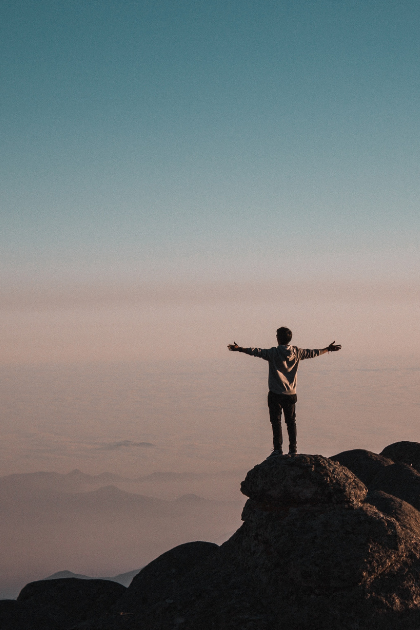 All over the world right now freedom is under attack. The devil is working night and day to rob us of our liberty in Jesus. When your personal freedom is under vicious attack, it's time to launch your own "Operation Freedom" on the battlefield of life.
Remember, God's principle of freedom is in creation. God created man and angel with the ability to make choices. His reason? So pure love could exist between Himself and His creation, because love is pure only when it is birthed out of a choice that is made by one's own free will. 1 John 4:18 says that "…perfect love casts our fear."
We are under assault by hidden foes intent on using all the devilish ingenuity they can muster to bind free nations everywhere and imprison them behind invisible bars of fear. Fix your eyes on Jesus and purpose your heart to these truths:
What Worked for Jesus Will Work for You
Jesus said in John 8:21-32 "If ye continue in my word, then ye are my disciples indeed; and ye shall know the truth, and the truth shall make you free." Jesus had to live by faith and obedience to God's Word just like we do. Jesus was (and is) God, but He was (and is) also man. Hebrews 4:15 tells us that Jesus was in every sense tempted like we are; He could've sinned, but He didn't.
What made and kept Jesus free; what held Him up and made Him strong was not His divine willpower. It wasn't even the fact that Almighty God was his Father. What made Him free was the fact that He walked on the Word of God! He always lived in accordance with the truth of God's Word. He said what His Father said; did what His Father told Him to do, and lived on the Father's Word continually, night and day. The word kept Him free!
Heavenly Freedom Here on Earth
The Word of God is the Word of Freedom! Continuing in the truth is what made Jesus free, and continuing in the truth is what will make you free. You are already free! You stepped into that freedom the minute you were born again. The instant you believed the truth about Jesus and acted on it by receiving Him as your Lord and Saviour, freedom was imparted into your spirit. God Himself made you a new creation. He made you righteous with His own righteousness.
All the medicine, psychology, and psychiatric's in the world piled into one place cannot do what the Word of God can and will do in your life. The experts in those fields may tell you a lot of natural facts. They may give you a lot of information about your circumstances. They may even be able to provide some temporary help or relief, but Jesus said it's the Word of God that's the truth (John 17:17). So if they're not giving you the Word, they cannot make you free.
Don't Buy The Lies
If you want to be free, you must face them squarely and change them by faith in the Word of God. Facts are neither truths nor lies. They are simply temporary conditions. Truth is what God says about those conditions. Lies are what the devil says about them. Lies are the weapons of terror the devil uses to threaten and intimidate you. They're the prison bars he uses to lock you up in sin, sickness, sorrow and lack—the very things from which Jesus has set you free!
Facts are neither truths nor lies. They are simply temporary conditions.
When sickness attacks us, the devil lies to us and says, You might as well just go to bed.You're not going to get healed this time.This sickness is just your cross to bear…God wants to use it to teach you something. When we're in trouble and need deliverance, the devil lies to us and says, God won't help you out of this situation. After all, it's your own fault.He's just going to leave you in it to teach you a lesson.
The truth of God's Word proves it's all a deception. It tells us plainly that Jesus didn't come to leave us sick, poor and sad. God's Word tells us the opposite because it says in Luke 4:18-19, "The Spirit of the Lord is upon me, because he hath anointed me to preach the gospel to the poor; he hath sent me to heal the brokenhearted, to preach deliverance to the captives, and recovering of sight to the blind, to set at liberty them that are bruised, to preach the acceptable year of the Lord."
Dig Into The Word
Your freedom is under attack! The thief has come to steal, kill and destroy the abundant life Jesus has given you! You can believe the lies of the devil, or you can dig into the Word of God and launch your own "Operation Freedom. Keep your ear tuned to the words of the Master and live just like He did. You can conquer sin, cast out devils, heal the sick and have every need met according to God's riches in glory by Christ Jesus.
There will be battles along the way, challenges to face and overcome, but if you continue in God's Word (the Perfect Law of Liberty), you will be a real disciple of Jesus. You will know the truth, and the truth will make you free!

Watch FlashPoint to discover how prophecy and current events are aligning to usher in the greatest awakening the world has ever known.
Copyright © 1997-2021 Eagle Mountain International Church Inc. aka Kenneth Copeland Ministries – All rights reserved.