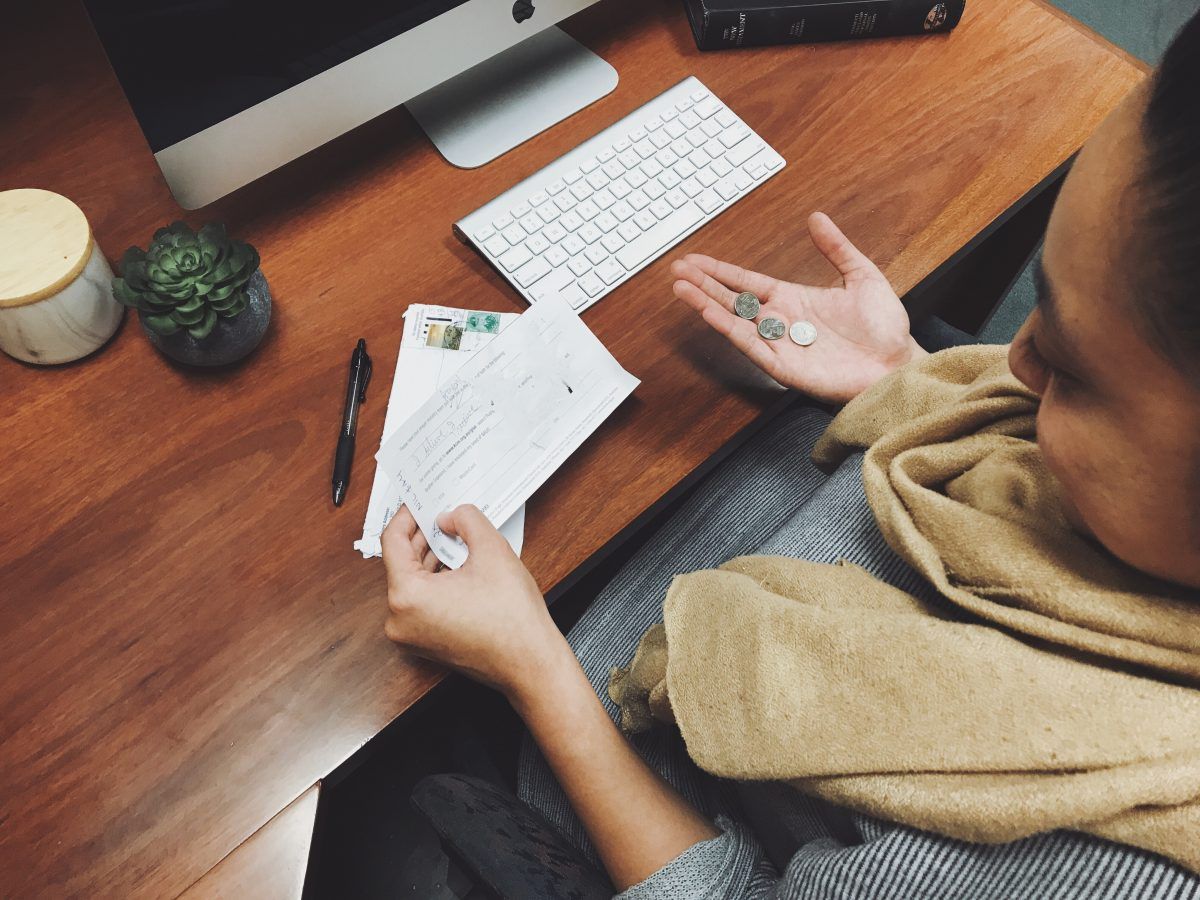 "I believe, I receive. Amen!"
This is the simplicity of faith! A confident declaration of assurance knowing that in the glorious exchange of believing in God, one will assuredly receive from Him. These three coin pieces symbolize that God-kind of faith, inevitable mountain-moving, air-bending, rock-splitting, sea-parting, soul-salvaging, walking-through-the-valley-of-death-fearing-no-evil kind of FAITH! I will always remember the morning these coin pieces were received, morning devotions in the upper room and then to mail-room duties of opening, sorting and scanning mail to be processed by our Partner Services Team. Kenneth's boisterous voice imprinted vividly in our thoughts from this week's BVOV broadcast:
"PUT YOUR FAITH IN THE LOVE OF GOD! Don't allow fear to stay. Don't fear that what you say will not come to pass. Keep listening to God's WORD spoken in FAITH! Know that when you hear God's WORD, faith comes! You haven't finished praying until you believe you receive…"
The words kept resounding 'believe you receive'. These words mirror the simple message of faith Jesus teaches in Mark 11:24: "whatever you shall ask for in prayer, believe that you have received it, and it will be yours".
From Throne-room to Mail-room
On a daily basis, we receive an influx of mail correspondence from people all over the world who are all at different seasons in their lives. There is a diverse spectrum of what is received from very generous donations to pages upon pages of prayer request letters to free offer requests to partnership renewals, BVOV subscriptions and so forth! Every piece of correspondence is prayed over intentionally and processed with integrity. Today, this mail-piece was different. It could have started by the outward appearance of a dilapidated envelope with tattered sides covered in soot and the seal been taped and stapled together, this envelope sang of Psalm 31:10 "My life is spent, my strength has failed'. It boasted of a rough journey which at long last has reached its final destination. One would begin to think that there must be significant treasure in this mail-piece through the layers of tape, glue and staples excessively pinned together like padlocks on a treasure chest, oh the effort! Matthew 6:19-21 birthed a familiar sound, "Build your treasures in the kingdom of heaven where moth and rust do not destroy". Faith is treasure, it is greater than any currency, gold or silver for in the smallest amounts it moves mountains.
The Hidden Treasure Within
Unravelled beneath and glued firmly to the envelope was a battered piece of paper with five faith-filled words:
'I believe, I receive. Amen!'
Out of the envelope slipped three silver pieces, three pieces of 1 Thailand Baht. In Australian currency exchange this is equivalent to 0.00113 cents, which is deemed void and of no value. But you see what took place here is so much deeper, so much richer and so much grander than natural currency exchange, The Great Exchange of heavenly economics occurred in this transaction. Where they've given in their lack, they will receive exceedingly, abundantly above and beyond in their faith! While their offering is regarded invalid and worthless in the natural form of financial systems, they become richer than anyone who gives out of their wealth because, in heavenly economics, faith is the only form of currency! For we walk by FAITH and not by sight, and we all know that God is a rewarder of faith!
Jesus teaches of a similar glorious offering in Mark 12 in the story of the Widow's mite. He explains to His followers that the small offerings of the poor have greater value in the kingdom of Heaven than the luxurious donations of the rich. This widow put in everything she had, her whole livelihood, and from the condition of this mail-piece, it's notable that this family too gave much of what they had into this offering. Their heart and attitude of giving is shown cheerfully in the words "I believe, I receive!" God looks at the heart of sowers not at the figures shown in their bank account. He looks at the faith they stand on when they sow and give into His kingdom and by that faith He promises to give more in return as He loves a cheerful giver. One may give a substantial amount but if it is done out of reluctance or under compulsion this is not sown in accordance with God's spiritual law of giving. The apostle Paul mentions of this spirit of giving when he addresses the Corinthians, he earnestly preaches about the heart of giving, the acceptable way and manner of charity and emphasizes the law of reaping and sowing.
Kenneth Copeland Ministries extends great teachings pertaining to the law of sowing and reaping a mighty harvest, the clear message of these teachings infused into every fibre of your being is that sowing in faith equals reaping in abundance! Great miracles come in small beginnings, here we illuminate the glory and power of that mustard-seed faith Jesus teaches in Matthew 17. The magnificence of the mustard seed is that in its natural habitat, it is the smallest seed of its kind, but when watered and nourished it flourishes into one of the biggest trees in the fields. As this family have sown their small mustard seed in faith, God will assuredly provide the increase of a bountiful harvest for them.
Small Things In The Hands Of A Big God
In a world where security is sought in financial stability, happiness in materialism and peace in high-paying promotions it is a blessing to see this family take a stance in faith. In a contemporary society where generosity is influenced by figures and not faith it is a blessing to witness such a great exchange take place. To witness this family put their faith in their Father whom they know and believe will supply every need of theirs according to His glorious riches in Christ Jesus! It has brought a spirit of humility through the hallways in our workplace. In a place where the Word of Faith is ministered to us daily, where we stand in faith with many of our partners believing with them for every heart's desire to be met through the unfailing Love of God, this great exchange has put into perspective, the manifestation of faith at work. Think of when the disciples came to Jesus with five loaves, two fish and the issue of feeding the five thousand, Philip said to Jesus "it would take more than half a year's wages to buy enough bread for each one to have a bite!" What took place next was of heavenly economics, Jesus lifted up the loaves and fish in its tangible scarcity, gave thanks to God and allowed the move of supernatural multiplication, not only enough for the five thousand but there was plenty leftover. This is faith in God's love. Put your faith in the love of God that meets every need! Faith as small as a silver coin piece can truly move mountains as small things in the hands of a big God can make a phenomenal difference.
Everything Is Possible For One Who Believes
God's Word confirms that spiritual laws govern material things. Faith in God is the trigger to the explosive power of spiritual laws taking form in the tangible. This is seen in miracles which move from the supernatural into the natural. Without faith it is impossible to please God, so to a God who is able to make all things possible, the abundance of or lack of faith in Him determines the degree to which you receive. Jesus says, "everything is possible for one who believes". Believing begins in the heart and is voiced through the power of the tongue in the same path we came into salvation, we first believed in our hearts, then confessed with our mouths that JESUS IS LORD and thus we received new life! In a world where there is so much need, for employment, healing, financial freedom, relationship restoration, miracle breakthroughs and where the list trails almost endlessly, this family have stood on the simplicity of faith; believe and receive. SIMPLE! The Oxford dictionary records 228,132 words in the English language, sometimes we may feel as though we must come before our Father and address Him with the most extravagant words of prayer to please Him and receive from Him, but God responds to faith. He speaks a heavenly language that is powered not by human-words but by spirit-faith! We could write a 2000-word petition of our needs to God using the highest of intellectual knowledge and language but if faith is not the driving force then our words are empty, they become void. We know that God isn't moved by words alone, He is moved by faith in those words. Think of when the disciples asked Jesus how to pray, He said not to babble on like pagans who think they will be heard by using many words for God knows what you need before you ask Him. So if God already knows our needs, why then should we ask? The act of asking allows God to see our degree of faith in what we ask of Him.  What is so inspiring in the way this family have sown in faith and brought their petition before God is that they could have written an extensive letter of every need they have but they summarized it all in five simple words of faith. Rather than focusing on the need itself, they focused on the One who supplies. Rather than focusing on the problem, they focused on the One who provides. Rather than focusing on the burden, they focused on the One who blesses. They truly capture the mind of Christ in focusing on things above and not below, in this they are empowered incredibly to run the race set before them with their eyes on Jesus the pioneer of faith. When you are transfixed on Jesus your faith is fuelled supernaturally, this empowers you to make bold declarations such as "I BELIEVE, I RECEIVE" and to simply leave it at that, enough said! You don't need to make any other adjustments or add any more words, you don't need to write a list of every need or feel overwhelmed by your insufficiency to meet these needs because that is not your duty, CHRIST died and resurrected so that every need of yours is met through His sacrifice! Your duty is to have faith in that sacrificial love, to have faith in His blood, to have faith in the Cross of Christ and all that it has done for you. SELAH!
Faith That Believes Is Faith That Receives
This is the faith that pleases God, faith that believes accordingly receives. As you have believed, so will it be done for you (Matthew 8:13). It is simple! This world has been moulded to falsely perceive that faith is only trialling, gruesome and strenuous. This faith is a result of people putting faith in themselves, where they are striving out of their own strength rather than putting their faith in the author and perfector of Faith who makes all things easy! The love of God is without limitation, condition or corruption, we simply need to have faith in that love to receive all that we need. We can all learn a lesson time and time again about the simplicity of God's kind of faith for He has given to each of us a measure of mountain-moving faith. We may get caught up in self-striving which only results in strife and to ultimate defeat, but if we make a stance today and put a faith claim over every need, regardless of what it looks like right now, we have faith to receive more than enough in Jesus Name! Wherever you may be in your journey right now, if you are feeling overwhelmed, defeated, weak or in lack, if you are seeking fulfilment or being positioned in the waiting room for God to answer, if you are looking at an electricity bill or rent invoice in arrears, if you are down to the last piece of bread or your child's school fees are overdue, if you are downward spiralling in your marriage, if you are laying in a hospital bed and the doctor has just delivered news that you have an incurable disease, if you have been praying for something specific in the past ten years or more that has not yet come to pass, if you are free-falling in every area of life and are at breaking point, pray and declare these simple words with me in agreement, "I BELIEVE, I RECEIVE, AMEN!"
Here at KCM we are praying for you every day, declaring God's provision over every heart's desire, we put a title deed over every need and proclaim that you have received in the Mighty Name of Jesus. Partake in the simple act of putting your faith in the love of God and when you believe, you too will truly receive!
Article By Judith Faauli Seko
Copyright © 1997-2017 Eagle Mountain International Church Inc. aka Kenneth Copeland Ministries – All rights reserved.