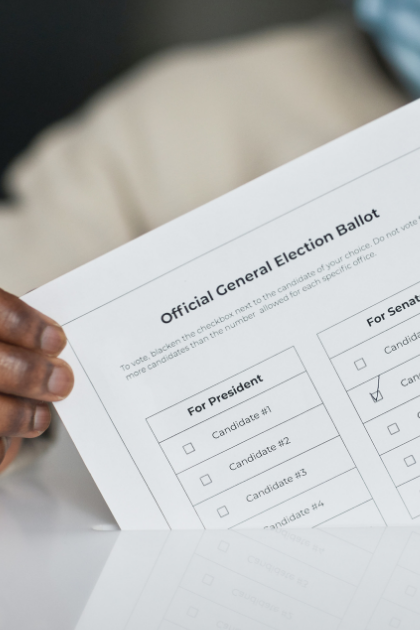 As we prepare for election season, it is important to remember our responsibility as Believers, stand on The WORD, and be counted. Paul teaches us in 1 Timothy 2:1-2 "I exhort therefore, that, first of all, supplications , prayers, intercessions, and giving of thanks, be made for all men; For kings, and for all that are in authority; that we may be lead a quiet and peaceable life in all godliness and honesty" (KJV). Begin to pray now so that the news media and other voices from every corner cannot influence you and cannot draw you in a direction away from the Spirit of God. Pray so that you won't be influenced by natural reactions and natural responses to cleverly designed commercials and ideas.
Vote the Platform; Not the Person
Each political party has a platform that describes what it believes and what direction it wants to move the country. Each candidate will try to meet his or her party's goals. While some elections present better candidates than others, our job is to evaluate each major party platform, determine which most closely represents biblical values, and vote for that candidate out of obedience and honour to God's Word.
If you're undecided on where your political ideologies fit, take this quick survey to help you align your values to a party. Remember: vote the platform; not the person. Start praying now about the coming elections. Whether they are small local elections or major national elections, make them a part of every prayer you pray.
Then thank the Spirit of God for His wisdom concerning for whom to vote. Thank Him for giving you His wisdom about what to say and when to say it to others. Thank Him for giving you wisdom to declare the Name of Jesus and declare that this shall be a God-indwelt, God-ordained, God-overseen government.
Guard Against Worldly Influence
The news media and other voices from every corner will try to influence you and draw you in a direction away from the Spirit of God. Cleverly designed commercials and ideas abound on your television screen, but you can choose to turn them off and, instead, tune in to the voice of the Lord.
Don't let the enemy bring a spirit of confusion into your God-ordained right and responsibility to impact our political process for righteousness. Take a stand, be a voice, and be a good steward of the government God has given you. Base your decision on the Word of God ONLY—not your neighbour, your mom, your friends or your favourite television stars. There is only one right way—God's way.