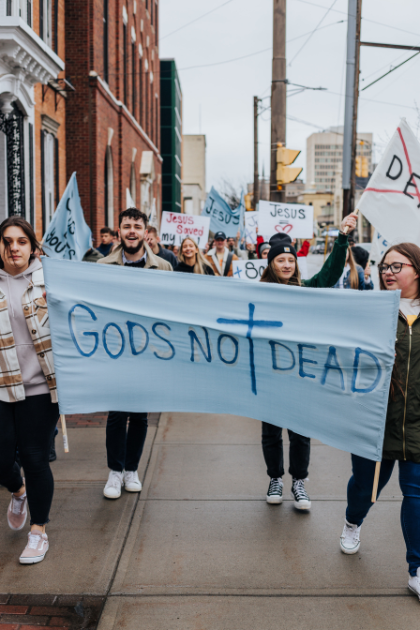 The Jesus Revolution was a cultural movement that swept across the United States in the late 1960s and early 1970s. It was a time of great social upheaval and spiritual awakening. Young people rebelled against the materialism and conformity of mainstream society looking for a different way of life. For many, this also meant a deeper exploration of faith and a new commitment to following Jesus Christ.
Host, Gene Bailey and the cast of Flashpoint discusses the latest blockbuster movie Jesus Revolution staring Hollywood A-listers like Kelsey Grammer, and Kimberly Williams-Paisley. Jesus Revolution defies expectations at the Box Office. Co-host Hank Kunneman speaks of prophecies and a sweeping revolution of light where God is overthrowing darkness, and invading the entertainment industry for a fulfilment of Matthew 4:16 (AMPC) "The people who sat (dwelt enveloped) in darkness have seen a great Light, and for those who sat in the land and shadow of death Light was dawned."
This ministry was at the beginning of the revolution then, and remains steadfast in the revolution today. Meeting young people in their God encounter, and honouring the calling from God to preach The WORD of faith from the top of the world, to the bottom, and all the way around.
The Revolution Then
The Jesus Revolution was not a single event or a coordinated movement, but rather a diverse collection of grassroots expressions of faith that emerged in different parts of America. It was marked by a rejection of the status quo and a desire to create a new kind of society based on love, peace, and justice. Many of the young people involved in the Jesus Revolution were feeling let down by the traditional churches. They sought a more authentic and experiential spirituality that was rooted in personal encounter with Jesus and a commitment to social change.
One of the most famous and influential expressions of the Jesus Revolution was the Jesus People movement, which originated in California and spread across the country. The Jesus People were known for their distinctive fashion, music, and evangelistic zeal. They held outdoor concerts and street festivals, preached the gospel in public places, and welcomed anyone who was seeking spiritual truth and community.
Another important aspect of the Jesus Revolution was its emphasis on social justice and activism. Many young Christians were inspired by the Civil Rights Movement and the anti-war protests of the time and sought to apply Jesus' teachings to contemporary issues of poverty, racism, and inequality. They volunteered in inner-city ministries, participated in protests and boycotts, and advocated for political change.
The Revolution Now
The Jesus Revolution had a profound impact on American culture and Christianity. It challenged the traditional church to be more responsive to the needs and concerns of young people, and it opened up new avenues for evangelism and outreach. Its was not without its challenges and controversies. Some critics saw it as a shallow and superficial form of Christianity that was more concerned with style than substance. But, the search for truth led youths to Jesus.
The circumstances of today's social and political climate, is similar to what young people were experiencing in the 70s. The legacy of the Jesus Revolution continues to inspire and challenge Christians today. It reminds us that the gospel is not just a set of abstract beliefs or moral principles, but a living and dynamic relationship with Jesus! It also encourages us to step outside of our comfort zones and engage with share Jesus with those that need Him.
The gospel is not just a set of abstract beliefs or moral principles, but a living and dynamic relationship with Jesus!
The message of Jesus is as relevant and transformative today as it was in the 1960s and 1970s. It was a powerful and transformative movement that challenged and changed American culture and Christianity. Its legacy continues to inspire us today as we seek to follow Jesus and share His love with others.