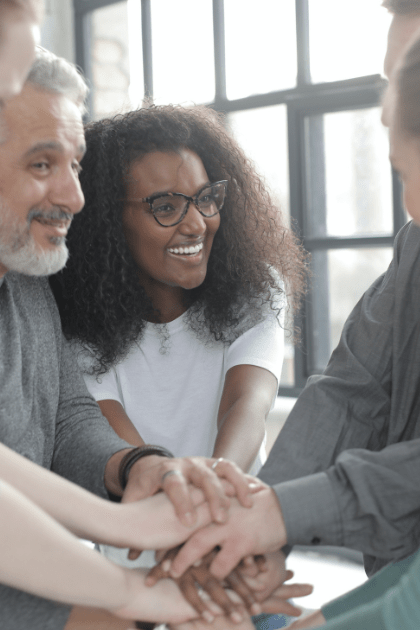 Agreement in prayer is powerful!
This is what Matthew 18:19-20 has to say about people praying together: "Again I tell you, if two of you on earth agree (harmonise together, make a symphony together) about whatever [anything and everything] they may ask, it will come to pass and be done for them by My Father in heaven. For wherever two or three are gathered (drawn together as My followers) in (into) My name, there I AM in the midst of them. [Exodus 3:14.]" Get in agreement with someone about whatever you are believing for and watch the Lord move on your behalf!
⁠That is why prayer is such an important part of Partnership.
Brother Copeland entered into a covenant before God to pray for his Partners every day until Jesus comes. Daily, Kenneth, Gloria, and our team in our offices from all around the world pray for you without fail. Our Partners are never without prayer!
"Daily, Gloria and I pray for you and earnestly believe God that you "prosper and be in health, even as your soul prospers (3 John 2)." In turn, we depend on your prayers of agreement and faith, also. For that reason, I want you to have the same scripture promises and prayers that I pray for you every day so you can know and agree with me in faith about these things. As you pray these scriptures, supply your name in the blanks along with Gloria's and mine. Deuteronomy 11.21 will be the result: "That your days may be multiplied, and the days of your children, in the land which the Lord sware unto your fathers to give them, as the days of heaven upon the earth." – Kenneth Copeland
Here is a list of the scriptures that Kenneth and Gloria pray over their partners daily.
Every weekday, the VICTORY Channel™ airs Morning Prayer at 9:30 a.m. ET/8:30a.m. CT, where our ministry team prays for callers LIVE over the air. This allows our Partners, Friends and viewers to not only receive prayer but to add their faith to those requesting prayer.
You can also call our prayer ministers here at our office in Brisbane, Australia on at +61 7 3343 7777 Monday – Friday, 9-4pm. Or you can submit a prayer request online any time.
Prayer & Partnership go hand in hand.
In this ministry prayer is front and centre. And as Paul wrote to his partners in Thessalonica who supported him financially in the ministry 'not because I desire a gift: but I desire fruit that may abound to your account' (Philippians 4.17). – That is our desire for you, that God will supply all your needs according to His riches in glory by Christ Jesus!
This year alone, millions of people made Jesus The LORD of their lives through the outreaches of Kenneth Copeland Ministries. And guess what made that possible? Our Partners. People just like YOU. Why is that?⁠ It's because, just like the soldiers who stayed and guarded the stuff, our partners did their part. They prayed. Gave. They joined their faith with ours. ⁠
As a Partner, we ask you to:
Pray for Kenneth & Gloria Copeland. And also for KCM, that we will get the job done of teaching Christians worldwide who they are in Christ Jesus.
Sow financially, faithfully and periodically, into the mission of KCM.
As Partners in the seed we sow also, He'll give you an equal share in the harvest! That's the power of partnership! As well as being covered in prayer, you will receive Kenneth's Partner Letter and the BVOV magazine each month, as well as access to a wealth of resources to help you build faith and live a life of total victory.
We Have a Big Job to Do!
From TV and magazine, to worldwide web and radio, to the most cutting-edge technology and even our own television network, we're getting it done! We found that God is always ready to join His faith with ours and bring His plans of the Kingdom to pass. Every day, we receive testimonies of divine healing, restored relationships, supernatural increase, provision and so much more. We are so grateful for our Partners who come along side us to make every changed life possible. By ourselves, we can do some good … but together, we can do so much more!!!
116,759,106+ SALVATIONS since 1984
400,000+ PARTNER LETTERS sent monthly
283 TV Stations, 99,250+ ROKU subscribers, Broadcasting 569 hrs/wk, 3.5 billion potential viewers of the BVOV BROADCAST
389,600+ BVOV MAGAZINE sent monthly To 198 countries in 6 languages
AND SO MUCH MORE! Social Media Channels, Prison Outreach, Teaching Resources & Live Events to name a few.
God has places for us to go and people for us to reach.
Our greatest days of ministry lie ahead as we minister alongside one another. Whether you join together with us in Partnership, or simply subscribe to receive our monthly BVOV magazine, watch the BVOV broadcasts, follow us on social media, get connected and stay connected, if not with us, with someone who is doing the work of the Lord. By ourselves we can do some good, but together we can truly make a difference!
That's the power of Partnership, tap into it!